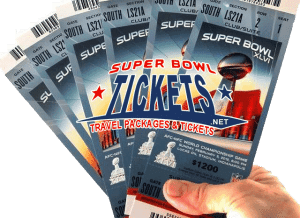 For many years now we've answered the question, how can I get my Super Bowl tickets at Face Value? So let's examine how this can be done and the alternatives if you can't make it happen.
The first way is via the NFL Lottery. This is done by submitting an official request between February 1 and June 1 directly to the NFL. Less than 1% of all available tickets are awarded through the lottery process, read all the details here.
The next way to achieve your goal is to personally know a NFL player, coach or team administrator. Tickets are issued to every team in the NFL once it is determined they are no longer in the playoff race. Playoff teams receive slightly more tickets and better seating locations. Players have to claim their tickets and are only allowed to exchange for face value to friends and family.
The final way is be a lucky season ticket holder for one of the two teams to play in the big game. All season ticket holders of the two final Super Bowl teams are entered into this special lottery. If you are lucky enough to win, you will receive a letter from the NFL with instructions on how to claim your seats.
Where Not to Buy Tickets
If you can't accomplish one of the options above, do not use any of these methods to purchase tickets.
1. Craigslist.org, Backpage.com or similar classifieds sites – Over the years we have both listed items for sale here and looked to buy seats from people on these sites. There is so much fraud I'm actually shocked they don't do a better job protecting the consumer. In many situations an international person requests you wire transfer money into a bank account and that your seats will shipped thereafter. The problem is that there is no recourse when you don't receive your tickets. I have personally seen this happen over and over again on these sites.
2. ebay – although ebay is a very reputable marketplace, it has been our experience that the locations shown on ebay are generally not real and your seats may be in an area that you don't like with limited sight to the field etc. This method is much less risky than the classified sites however, if you do decide to buy here only consider "Power Sellers" with lots great feedback regarding transactions.
3. Never pay cash for tickets to the Super Bowl, if your tickets are found to be fraudulent you have no recourse. In and around the host city is a conglomerate of scalpers many of which are peddling counterfeit tickets that look real but are fake. The NFL goes through great lengths almost as if they are currency to protect the integrity of all Authentic Tickets. They always include holograms, heat sensors and many other methods to ensure they are real.
The Best Ways to Purchase Super Bowl Seats
There are several companies that have varying access to Authentic tickets. The official NFL Ticket Exchange has real tickets but prices sometimes can be a little high. StubHub has the right protection for you as a consumer and there are plenty of options, but you can't talk to anyone of the phone to ask questions. SuperBowlTickets.net can undercut both of those options and you can talk to someone on the phone, reach out to them on facebook, linkedin or twitter and they will have a full team on-site in the host city. Dealing with a real company with great customer service and the cheapest seats is the way to go.
Hope this article sheds some light on the topic of Super Bowl Tickets at Face Value, feel free to call superbowltickets.net at 1-866-881-5373 for questions and to inquiry about existing ticket and package inventory.
YouTube Video About Scams on Craigslist