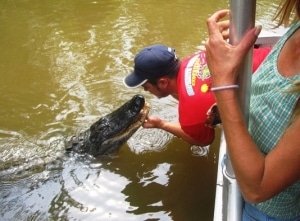 New Orleans is a city with a special hold on America's heart, especially following Katrina.  The Big Easy pulls at our nostalgic side while being deliciously ribald at the same time.  With the Super Bowl returning to New Orleans for 2013, that special hold the city has on us will be renewed.
Old and new visitors to the city need to head out and do a few things in addition to seeing the big football game. Without a doubt the French Quarter is the biggest draw in the city, and no trip to the Quarter is complete without checking out some local specialties and hot spots within that famed section of the city.
Visit a Live Jazz Bar
Jazz is a truly American art form and New Orleans is considered the birthplace of the musical genre. No other city has the assortment of jazz and blues clubs as New Orleans.  When you visit the French Quarter, be sure to see some live jazz and appreciate something that is uniquely American.
Good suggestions are the Snug Harbor Jazz Bistro and Michaul's Live Cajun Music Restaurant.  Have a Cajun dinner, see live jazz and enjoy American music at its heart.  Also consider checking these famous live Jazz venues around Bourbon Street; Preservation Hall, The Jazz Parlor at Storyville, Fritzel's European Jazz Club.
Eat a Beignet
The Northeast has Dunkin Donuts, the Midwest has Krispy Kreme and Canada has Tim Horton's, but New Orleans has beignets.  For those not familiar, beignets are deep fried sugar cakes that are covered in white powdered sugar.  Beignets are considered one of New Orleans' signature treats and no one coming to the French Quarter should go without one.
The most famous place to grab a black coffee and beignet is Cafe du Monde on Decatur Street in the French Quarter.  Be warned, do not wear black when you eat a beignet or you end up looking like an X-ray!
Ride a Streetcar
The French Quarter spans 100 city blocks. To explore and take in the history and architecture of the city, hop aboard one of the streetcars that run up and down New Orleans and into the French Quarter.  Hop off a St. Charles Avenue streetcar from the French Quarter and transfer onto a Riverfront Lines car and explore Canal Street.
Bring a camera to take pictures of the wrought iron staircases and railings that the is known for.  One great trip is to leave from Canal Street on the St Charles Line and travel through the business and warehouse district uptown and past amazing antebellum mansions and historic monuments, this trip will really set you back in time.
Enjoy a Famous Restaurant
New Orleans is a foodies dream come true, several famous chefs have signature restaurants there.  The city is fortunate to attract some of the world's most talented food creators like; Chef Paul Prudhomme, Emeril Lagasse, Lazone Randolph, John Besh, Chef Adolfo Garcia and Donald Link to name a few.  When visiting the Crescent City, head to the French Quarter and dine in one of the most famous restaurants in town.
Try Antoine's, Emeril's, Brennan's, Arnaud's or Broussard's, which all have enjoyed Zagat and other high level ratings over the years.  You will find all kinds of cuisine from French, Cajun, American Fusion and down home Louisiana cooking.  Don't leave the city without testing at least one dinner at one of these famous New Orleans's restaurants.
See the 'Gators
In just under 20 minutes you can arrive at an air boat tour that will take you through the swamp lands of Louisiana.  You will experience alligators of all sizes up close and personal in Cajun country. If you're lucky, you can feed one and see it only a few feet away.  The air boat tours should be on your list of things to do. If you don't want to head out to the Bayou to see a 'gator farm or do a tour, you can put plan b in effect.
Within the French Quarter is a small museum and alligator museum, where visitors can see the animals up close and personal and see what goes into keeping a 'gator farm. While touring the facility be sure to see the local pop art pieces that showcase 'gator farms and products.  If you are feeling adventurous, try some 'gator stew or chili and see if the meat is for you.
See a Live Jazz Burlesque Show on Bourbon Street