The good, the bad and the ugly after 4 games of the NFL season.
Following Week 4 in the NFL 2014 / 2015 season, there are already several surprises, who is on your list as surprise good or bad so far this year.
For example, no one predicted that the Arizona Cardinals would be undefeated at 3 – 0. Then you have the 3-0 Cincinnati Bengals, they look strong on both sides of the ball and have one of the most explosive offenses so far, they will get back a healthy Marvin Jones for Week 5.
Fantasy Football Good and Bad Surprises So Far This Year
As it relates to Fantasy football, there are several surprises and busts in the first quarter of the NFL Season.
On the surprise list will be Steve Smith Baltimore Ravens WR, he is off to a strong start in his 30's, maybe the best value so far in FFL. Most FFL players would say Larry Donnell TE from the Giants is a monster so far this year and his QB Eli Manning is also over achieving so far.
Add WR Brian Quick from the Rams to the list of good surprises, Russell Wilson at QB is off to a great start, Running Backs DeMarco Murray, Knile Davis, Ahmad Bradshaw and Le'Veon Bell have also over achieved so far this year.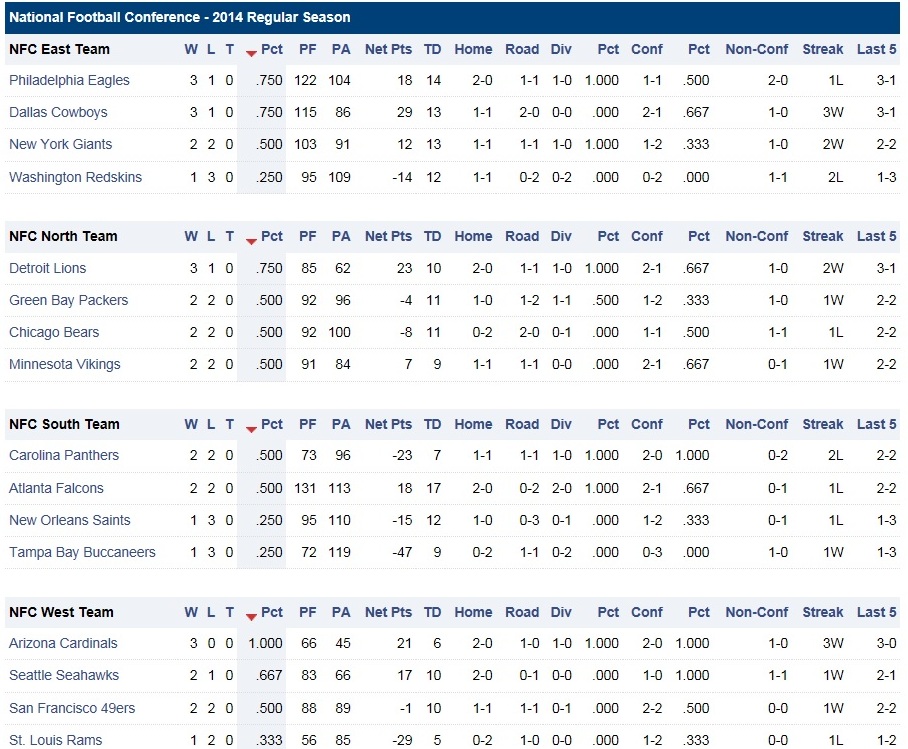 The busts have been LeSean McCoy RB from the Philadelphia Eagles, he is off to a terrible start. the primary reason is a banged up offensive line but he has also been tentative to get up field, the insiders think he took a hard hit against the Redskins and is now afraid to bust through the line. Only time will tell if he can bounce back.
The top gigantic bust is Adrian Peterson, team owners don't have any idea if and when he will return, FFL team owners have never seen anything like this before. Along the same lines as A-Train, Ray Rice is also currently out of football and may not return this year on any team, only time will tell how it will unfold.
Who would believe Peyton Manning from the Denver Bronco's would show up on a bust or bad list so far this year? Add Nick Foles to the under achievement list too!
Arian Foster and Eddie Lacy are considered busts so far after 4 games, they simply have not delivered anywhere near what Fantasy Football Owners were hoping for.
Take a look at these records, does it all add up?
Houston 3 – 1
Cowboys 3 – 1
Detroit 3 – 1
Arizona 3 – 0
Saints 1 – 3
49ers 2 – 2
Colts 2 – 2
Although it is very early in the season, there are several scenarios that are mind altering so far, lets see how the next 4 games play out!