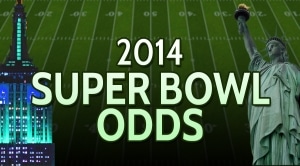 Just about every NFL Football fan is getting the itch to start the season, from pre season games to fantasy football drafts, the mood is ramping up.  This makes it the perfect time to review the odds to win the NFL Super Bowl XLVIII, Odds to Win the AFC and NFC Championship and the over, under win totals on each team before the season gets started.
Right out of the gates, the Denver Bronco's, led by Payton Manning are the favorites at 6 – 1 Vegas Odds.  Of course the Forty Niners, Seahawks, Patriots and Packers are the next group behind the 6 – 1 Bronco's.  The Las Vegas odds makers really know how to set the exact number on teams, it's truly amazing, theior accuracy makes finding betting values very difficult!
The same teams with lowest odds to win the Super Bowl in East Rutherford, New Jersey are also favorites to win the Division Championships.
The last set of odds below show each NFL Team and their over / under total wins from a 16 game season.  Some of the teams like the Kansas City Chiefs and Philadelphia Eagles are set at 7 wins, even the Rams, Buccaneers, Dolphins and  Lions have 7.5 wins set over or under.
Current Super Bowl Winner Vegas Odds
Denver Broncos 6/1
San Francisco 49ers 6/1
Seattle Seahawks 10/1
Green Bay Packers 12/1
New England Patriots 12/1
Atlanta Falcons 17/1
Houston Texans 18/1
New Orleans Saints 20/1
Pittsburgh Steelers 25/1
New York Giants 26/1
Washington Redskins 27/1
Chicago Bears 30/1
Indianapolis Colts 30/1
Cincinnati Bengals 35/1
Baltimore Ravens 35/1
Dallas Cowboys 40/1
Carolina Panthers 45/1
Detroit Lions 52/1
Tampa Bay Buccanneers 55/1
Miami Dolphins 55/1
Kansas City Chiefs 60/1
Minnesota Vikings 65/1
San Diego Chargers 70/1
Cleveland Browns 72/1
St. Louis Rams 75/1
New York Jets 81/1
Arizona Cardinals 83/1
Philadelphia Eagles 85/1
Buffalo Bills 99/1
Tennessee Titans 150/1
Oakland Raiders 200/1
Jacksonville Jaguars 320/1
Odds to win 2014 NFC Championship
San Francisco 49ers 4/1
Seattle Seahawks 5/1
Green Bay Packers 6/1
Atlanta Falcons 8/1
New Orleans Saints 10/1
Washington Redskins 12/1
New York Giants 14/1
Chicago Bears 15/1
Dallas Cowboys 20/1
Carolina Panthers 20/1
Detroit Lions 22/1
St Louis Rams 25/1
Tampa Bay Buccaneers 25/1
Minnesota Vikings 35/1
Philadelphia Eagles 45/1
Arizona Cardinals 50/1
Odds to win 2014 AFC Championship
Denver Broncos 2/1
New England Patriots 9/2
Houston Texans 7/1
Indianapolis Colts 10/1
Cincinnati Bengals 12/1
Pittsburgh Steelers 13/1
Baltimore Ravens 15/1
Miami Dolphins 20/1
Kansas City Chiefs 22/1
San Diego Chargers 30/1
Cleveland Browns 33/1
New York Jets 35/1
Buffalo Bills 45/1
Tennessee Titans 65/1
Oakland Raiders 79/1
Jacksonville Jaguars 150/1
Total NFL Team Wins 16 Game Season
Arizona Cardinals – over / under 5.5
Atlanta Falcons – Over / Under 10
Baltimore Ravens – Over / Under 8.5
Buffalo Bills – Over / Under 6.5
Carolina Panthers – Over / Under 7
Chicago Bears – Over / Under 8.5
Cincinnati Bengals – Over / Under 8.5
Cleveland Browns – Over / Under 6
Dallas Cowboys – Over / Under 8.5
Denver Broncos – Over / Under 11.5
Detroit Lions – Over / Under 7.5
Green Bay Packers – Over / Under 10.5
Houston Texans – Over / Under 10.5
Indianapolis Colts – Over / Under 8.5
Jacksonville Jaguars – Over / Under 5
Kansas City Chiefs – Over / Under 7
Miami Dolphins – Over / Under 7.5
Minnesota Vikings – Over / Under 7.5
New England Patriots – Over / Under 11.5
New Orleans Saints – Over / Under 9.5
New York Giants – Over / Under 9
New York Jets – Over / Under 6.5
Oakland Raiders – Over / Under 5.5
Philadelphia Eagles – Over / Under 7
Pittsburgh Steelers – Over / Under 9.5
San Diego Chargers – Over / Under 7.5
San Francisco 49ers – Over / Under 11.5
Seattle Seahawks – Over / Under 10.5
St Louis Rams – Over / Under 7.5
Tampa Bay Buccaneers – Over / Under 7.5
Tennessee Titans – Over / Under 6.5
Washington Redskins – Over / Under 8.5