The NFL's regular season has finally come to a close. Now it's time for the big boys to come out to play. Wild Card Weekend in the NFL begins on Saturday, meaning fans will finally find which teams are ready to face the road to Super Bowl 50.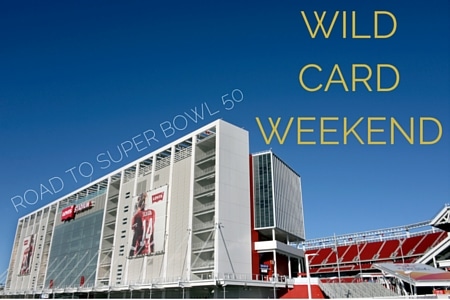 Saturday, January 9
Kansas City Chiefs at Houston Texans, 4:35 p.m. ET
The Kansas City Chiefs ride a 10-game win streak into the wild card round, finishing the season at 11-5 after a 1-5 start.
Coach Andy Reid's team has outscored their opponents 278-128 during the streak, highest point differential in the league during that span. And now, the Chiefs will ride into Houston to face a Texans team riding their own three-game win streak, a win-streak which put them in the playoffs. Houston has used four quarterbacks this season in Brian Hoyer, Ryan Mallett, T.J. Yates and Brandon Weeden, despite making the playoffs.
Prediction: Kansas City 27 – Houston 13
Pittsburgh Steelers at Cincinnati Bengals, 8:15 p.m. ET
Despite having his cast removed from his throwing hand during the week, Cincinnati Bengals quarterback Andy Dalton will miss the wild card playoff game against the Pittsburgh Steelers. A.J. McCarron, who has started the past three games, will get the start again.
The Bengals will have to overcome those challenges against a Pittsburgh Steelers team that has ridden a red-hot offense into the playoffs. Playmaker Antonio Brown looks to help spoil his division rivals' home playoff opener, and continue the Bengals' bad luck in the playoffs.
Prediction: Pittsburgh Steelers 24 – Cincinnati Bengals 21
Sunday, January 10
Seattle Seahawks at Minnesota Vikings, 1:05 p.m. ET
In what might be the most intriguing matchup throughout wild card weekend, the NFC-North champion Minnesota Vikings will host the surging Seattle Seahawks on Sunday afternoon, in a game that weather experts are saying could be the coldest in NFL history.
Cold weather means a lot more emphasis will be placed on the ground game than usual, giving the upper-hand to NFL rushing title winner Adrian Peterson and the Minnesota Vikings. Despite Russell Wilson's phenomenal season ending campaign, the Seahawks are without their rookie phenom in Thomas Rawls, and Marshawn Lynch will be seeing his first action since November 15, when the running back had a sports hernia surgery.
Prediction: Minnesota Vikings 17- Seattle Seahawks 13
Green Bay Packers at Washington Redskins, 4:40 p.m. ET
The playoff game that could be described as the "tale of two teams." The Green Bay Packers, who rocketed out to a 6-0 start, finished the season at just 10-6, losing the NFC North to the Minnesota Vikings in week 17.
The Washington Redskins, did just the opposite. Washington started the season at just 3-5, before winning six of their last eight games to finish 9-7 and winners of the abysmal NFC East.
The playoffs, however, are a brand new season. Veteran Aaron Rodgers and the Packers have had plenty of playoff experience and success in recent years. Redskins quarterback Kirk Cousins and head coach Jay Gruden, however, are here for the first time.
Prediction: Green Bay Packers 34 – Washington Redskins 14
(First-round byes:

[AFC] Denver Broncos, New England Patriots, [NFC] Carolina Panthers, Arizona Cardinals)

Is your favorite team listed above? Or are you just an NFL-junkie looking for the ultimate experience? Super Bowl 50 ticket packages are still available, including airfare, tickets to the game, hotel accommodations and a ticket to the 2016 Players Super Bowl Tailgate, 25 current NFL players in attendance, the world's greatest tailgate emceed by Fox Sports' Erin Andrews and featuring food from Guy Fieri and a team of celebrity chefs. Don't miss the experience of a lifetime, get your tickets today!