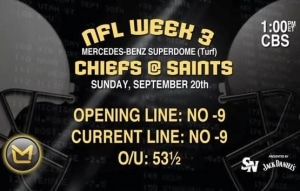 Just when you thought things were returning to normal early in the NFL Football season, wham, the biggest upsets of year happen in just the third week to teams you thought had no business winning the game.  There were seven huge upsets that most fans will agree are almost unbelievable, lets begin with the Saints losing to the Kansas City Chiefs.  New Orleans was a home favorite giving the Chiefs 9 points and although both teams were coming into the game at 0 – 2, New Orleans was the obvious choice.
Next, lets talk about the Minnesota Vikings crushing the 49ers 24 – 13 in a dominant performance no one saw coming.  The Vikings moved the ball up and down the field on San Francisco and actually had chances to increase the margin of victory.
these next games have me shaking my head, Eagles lose to the Cardinals in a blowout 27 – 6, The Titans beat the Detriot Lions in overtime 44 – 41, The Raiders win over the Steelers 34 – 31, The Bengals beat the Redskins 38 – 31 and the Ravens come back on the last drive of the game to win 31 – 30 over the New England Patriots.  As I sit before you writing this, I'm simply shaling my head disbelief.
Week 3 NFL Scores
Bengals 38 – Redskins 31
Chiefs 27 – Saints 24 in Overtime
Raiders 34 – Steelers 31
Vikings 24 – 49ers 13
Cardinals 27 – Eagles 6
Ravens 31 – Patriots 30
Titans 44 – Lions 41 in Overtime
Bills 24 – Browns 14
Bears 23 – Rams 6
Cowboys 16 – Buccaneers 10
Jaguars 22 – Colts 17
Jets 23 – Dolphins 20 in Overtime
Giants 36 – Panthers 7
Falcons 27 – Chargers 3
Texans 31  – Broncos 25
Hope you enjoyed our recap on the third week of the NFL Football season, I watched just about every game on Directv NFL Sunday Ticket and from what I saw, the interim referees / replacement officials are really struggling, games were extended until 5pm est because of sloppy officiating, not for nothing but as a fan, I can't wait to see the real guys on the field.  I do wonder that when they return, are they going to be rusty too?  Come on NFL, let's get this fixed ASAP, just saying.