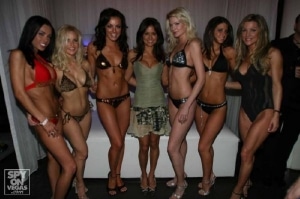 2012 Leather and Laces Super Bowl Party in Indianapolis, Indiana review.
Night #1 – Friday, February 3rd, 2012, from 9:00 pm to 3:00 am Central Time
Party Hosts Were: Jenny McCarthy, Carmen Electra, and Jersey Shore's Jenni "Jwoww" Farley
This party has gotten so big, they now have two special nights during Super Bowl week hosted by completely different stars. Annually one of the hottest parties of the year, 2012 was as hot as advertised. It all started with a really cool location, "The Terrace at Regions Bank Tower" in Downtown Indianapolis, IN. The first task was just getting to the party from the street, it turned out to be a fun experience that included twists and turns and a wild elevator ride. We made it up to the correct level, while standing in line accross from the red carpet waiting to enter, we see all kinds of celebrities, from movie stars to NFL players to NBA Players and owners, you name it, they were there. Once we entered the party, we were on sensory overload, beautiful women everywhere half dressed, incredible view overlooking the city, in the rafters were performers from Cirque USA, wow, we've arrived. We made our way over the to full open bar sponsored by Hennessy Cognac, Moet and Chandon, Belvedre Vodka, Monster Energy, 10Cane Rum to name a few to order our preferred beverage. All night long we were entertained by the three cool DJ's; DJ Michael Jerome, DJ Avi and DJ Automatic in addition to the stars of the show MENTALIST, Jim Karol and the CIRQUE USA performers. One crazy fun night to remember for a long time.
Night #2 – Saturday, February 4th, 2012
Party Hosts were: Kendra Wilkinson, Holly Madison and Bridget Marquardt
The second night was just as good as the first night, it was really cool to chat with Kendra and Holly and interact with all the celebrities and stars at the party. As long as you don't approach a celebrity like a stalker, they are mostly super receptive and will carry on a nice conversation about the upcoming Super Bowl game or other topics. This being Leather and Laces Super Bowl party number 9, the ninth year, the general consensus is that it's the show of shows during SB week.
Look for the dates, location and party details for Leather and Laces 2013 in New Orleans, we will help you navigate your way to this incredible party in the Big Easy.