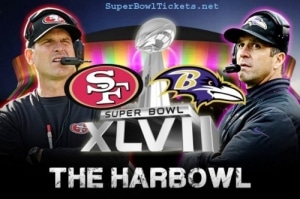 If you really think about, considering there are 32 Teams in the NFL, it's a long shot that two head coaches who are also brothers, survived the season and playoffs to face off against one another in the Harbaugh Bowl 2013.  If you look back to the Las Vegas pre-season odds to win the Super Bowl you'll see that the 49ers were between 6-1 and 10-1 to win the big game, they were close to top as probable winners.  The game nicknamed "Harbowl 2013" is one of the most interesting story's in sport today.  Descendants of their father Jack bot coaching in the NFL's biggest game, who could written a better script?
Jim Harbaugh's Road to the Big Game
Jim Harbaugh the current Head Coach of the San Francisco 49ers he has an incredible record of 24 wins, 7 losses and 1 tie in two seasons as the head guy in San Fran.  In 2011 he won the Associated Press's esteemed "NFL Coach of the Year".   Jim played in the NFL and achieved success as a head College football coach for the University San Diego and Stanford University.  In San Diego he helped the program go 7 – 4, 11 – 1 and 11 – 1 with 2 Pioneer Football League Championship back to back in '05 and '06.
He then took the head coaching job at Stanford, immediately made an impact going 8 – 4 in his first year and 11 – 1 in year two while winning the first ever Stanford BCS Bowl Championship as well as the NCAA "Woody Hayes Coach of the Year" in 2010.
In his first year as San Francisco's main guy, he went 13 – 3 but lost to the NY Giants in the NFC Championship game.  Year two, he successfully navigated the NFL going 11 – 4 – 1 and winning the NFC Championship game earning his team a spot against his brother in the 2013 Super Bowl.
John Harbaugh's Path to Super Bowl XLVII
Jim's brother John, had a slightly different path to success, he toiled in the college ranks as a coordinator in some fashion, for example he coached running backs and linebackers at Western Michigan, tight ends at Morehead State and special teams at University of Cincinnati.  He made it to the NFL in 1998 with the Philadelphia Eagles under Ray Rhodes but continued to coach Special Teams under Andy Reid for 8 years until he received his big break as the lead guy of the Baltimore Ravens in 2008.
Since taking over as Head Coach of the Baltimore Ravens, he has achieved amazing success winning 54 games and losing 26 in 5 years.  He has made it to the NFL playoffs every year and lost twice in the AFC Championship game.  He finally broke through with his recent victory, this year, against the New England Patriots earning a spot in Super Bowl XLVII.
Not only was it almost improbable that the brothers would play each other in the biggest game of the NFL year, but, they have both accomplished a tremendous amount of success in just a few short years as NFL Coaches.  An amazing legacy of adventurous and successful coaches has been created by their father Jack Harbaugh.
Event: 2013 Super Bowl XLVII
Location: New Orleans, Louisiana
Stadium: Mercedes-Benz Superdome
Dates: Sunday February 3, 2013
Time: 6:40 PM EST Tickets:
Call 1-866-881-5375
Packages: Limited number of Hotel options remaining