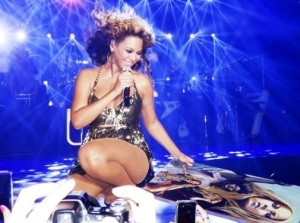 Now that we know who will be the primary performer in the upcoming Super Bowl half-time show, the next question is, who else will participate with her for this extravaganza?
Speculations such as:  will local artists from Louisiana be apart of the show? How about the other girls in Destiniy's Child? or even a bigger question, how about Jay-Z ? and or other top rated worldwide artists.
To find out the answer, mark you calendar for this event at the Mercedes-Benz Super Dome, Sunday February 3, 2013.
Pepsi will be the new NFL Halftime Show sponsor after a 5 year hiatus when Prince was the feature artist, they last participated in 2007 .  The sponsor over the last 5 years has been Bridgestone.
If you are wondering What time will the Super Bowl halftime show with Beyonce begin on TV?  We estimate that it should start between 8:00 pm and 8:15 PM EST. Over 111 Million people are expected to be watching this event on TV.
Although it's too early to tell, we are trying to think of a possible set list for Beyonce's halftime show.  I'm guessing we may hear songs like "Single Ladies", "Crazy in Love", "Run the World" and maybe Destiny's Child "Independent Woman" and "Survivor".  What are your thoughts, post a comment below.
You can watch the Super Bowl XLVII on CBS starting with the pre-game at 5:00pm EST, actual game start time is scheduled for 6:20 pm EST.
Beyonce's credentials are off the charts, she has won 16 Grammy Awards, 12 MTV Music Awards, 9 BET Awards, 7 Billboard Music Awards, 7 Teen Choice Awards and many more.  She has been nominated for more than 515 Awards between 2003 and 2013, she is simply a legendary musical performer.
Have fun and enjoy the big-game wherever you choose to watch it.