Football fans are hilarious. They're even funnier when something goes wrong (like passing on the one-yard line!) Last year's Super Bowl offered lots of cannon fodder for humorous NFL fans. And, boy did they make some memes! Here's hoping this year's game will keep us as entertained as last year's Seattle Seahawks vs. New England Patriots game. Until this February, let's take a look back at what made us laugh during last year's NFL championship game.
We picked out the best memes! Check it out!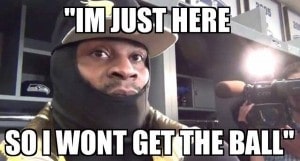 Maybe you forgot. It's been a while. There was this infamous press conference last year. Where one player, cough cough, only attended so he wouldn't get fined. And he made sure we knew it. "I'm just here so I won't get fined." It's become a tagline now.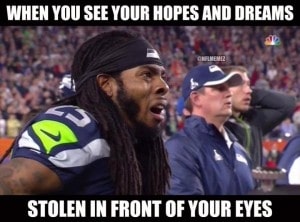 Oh that painful moment, when we all thought the Seahawks were going to win. Then they didn't. It was a terrible, terrible mistake, people are still upset about. Why didn't he just run the ball!? It wasn't just Lynch's hopes and dreams that were crushed. It hurt anyone football fan who wasn't a Patriots fan to see the Seahawks lose like that. So sad.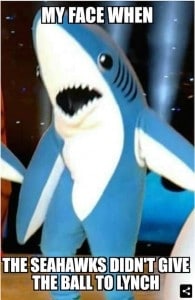 The halftime performance from Katy Perry was great, there was even a lion-robot-thing. It was, however, slightly overshadowed by the left shark. That slightly out-of-sync dancer who created a Twitter phenomenon. That poor, poor dancer. He's become a Halloween costume for years to come. Speaking of things you may have forgotten about last year's Super Bowl, do you remember when the power went out for a few seconds? It was scary, man! What if the football had stopped!?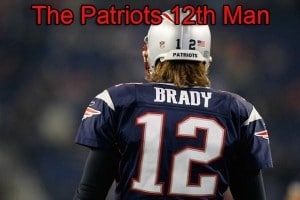 The Seattle Seahawks fan club is known as the "12th man." Unfortunately, all those banners they wave make it appear like they were cheering on Tom Brady to victory. A sad side effect of the over-use of the number 12 in professional football.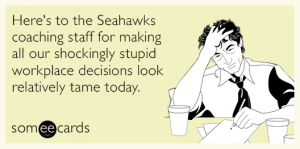 We would all like to call in sick the Monday after the Super Bowl. At least all the funny memes left us with a smile on our faces after all the glory of Super Bowl Sunday.
Here's hoping you smiled at least once. Unless you're a Seahawks fan, then you're not very happy at all this year. Sorry about your luck. If you'd like to skip yelling at the TV and cheer in the stadium, tickets for Super Bowl 50 are still available! You can make your own hilarious memes from San Francisco instead of your couch that way!